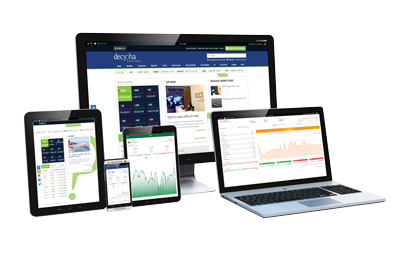 Why GFM™
GFM™ is a leading Financial information & Technology provider in the MENA region offering Investor Relations Solutions, Market Intelligence & News platforms (Decypha.com / Mubasher.info) and Low latency Market Data Feed.

GFM is an entity owned by the National Technology Group (NTG International) and is the financial content arm of Mubasher Group.

Throughout 15 years of industry experiences, GFM has built trust with exchanges and regulators and is successfully serving more than 250K+ subscribers supported by 400+ professionals across MENA. Our below product portfolio, serving 100+ global and regional clients and 250K+ active users;
Investor Relations and Financial Portal solutions: GFM Investor Relations solutions is MENA's most comprehensive and cost-effective solution assisting 50+ listed companies in enhancing their IR digital communications and transparency, by providing them easy to integrate IR tools, managed and updated consistently by GFM™ 24/7 technical and financial analysts teams Tell your investment story by providing relevant, real-time market and content data for investors through our user-friendly Web & Mobile App Solutions.
Market & Corporate intelligence platforms: Decypha is a premier Market & Corporate Intelligence monitor for the MENA region. Access the most comprehensive database of companies & executive management in MENA, powered by analytical tools, screening capabilities, real-time news & insights. An all-inclusive platform with further access to companies' financials & ratios and more screening tools to support in-depth research and analysis workflow.
Low latency market data feeds – MENA, Emerging & Frontier Markets Exchanges connectivity.